Sue Abbe Kaplan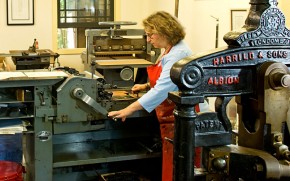 My first introduction to the letterpress was through the books themselves. I studied Library Science at UCLA specializing in rare books and the history of the book. After graduation, I worked in the Special Collections of UCLA's Young Research Library as assistant editor of the Catalogue of the Ahmanson-Murphy Collection of the Aldine Press. I spent 11 years studying the books of the Famed 16th-century Venetian printer, Aldus Manutius and his family.
The Aldine catalogue is composed of bibliographic descriptions, provenance notes and studies of the physical aspects of the books including the format, typefaces, watermarks and other characteristics of the press.
My discovery of letterpress was a natural extension of my studies in the history of the book. My curiosity about the various printing processes led to an apprenticeship with a master printer. These historical influences are evident in my classic, simple and appropriate design aesthetic.
At the same time, I was becoming interested in Jewish culture, tradition and ritual, with particular focus on the history and literature. I am always interested in new writers or new translations of Jewish literature.
After completing two handset and printed books, a rich series of holiday cards and the opening of my studio space, I wanted to expand my interests so I established The Garlow Studio as the outlet for my design and letterpress work not limited to the Jewish work I do as Shulamis Press.