BookArtsLA,  a new, nonprofit organization devoted to bringing the beauty of printing, binding and collecting artists' and other hand made books to the public, has opened in Los Angeles. Its studio is located at 11720 Washington Place in westside area of Mar Vista. Our 1600 square foot space houses letterpresses, a bindery and workspace for up to 20 students. In our first few months we have offered classes in beginning and intermediate bookbinding, paste paper making, and have had guest lecturers Karen Hanmer and Rhiannon Alpers .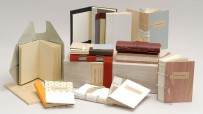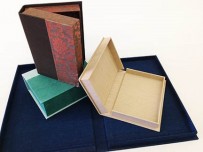 Rhiannon returns this weekend on June 13-14 to teach there different box forms to store  books in. Over the summer, we will be presenting our popular paste paper making class and our One Day – Eight Books, an introduction to bookbinding structures. Michael Burke will be coming to teach a very special medieval binding. I will be teaching a one day introductory class in letterpress in July.
To learn more, visit their website BookArtsLA, and if you live in LA, do support them. If you can, please support this new and exciting venture in bookarts.